Home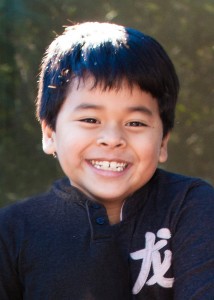 Lakas Parreñas Shimizu
September 12, 2005 – December 25, 2013
Lakas Parreñas Shimizu unexpectedly passed away on Wednesday, December 25, 2013. He had a common viral intestinal illness for a day. In a rare complication, the virus spread to his heart, causing it to stop functioning suddenly. Lakas was a strong, kind, bright, happy, healthy, and wonderfully energetic boy who loved his friends and family and was loved by many. He is greatly yearned for by his parents Dan and Celine and brother Bayan. In his short life, he created special ties and memories that will ripple throughout the lives of his family and friends, far into the future.
Lakas was born in Santa Barbara, California at 1:11p.m. His name Lakas means strength in Filipino. Growing up as a toddler, he spent many of his days and nights upside down on his head, demonstrating great balance. He showed the utmost confidence as he stood on the highest point of any play structure. He dominated in the game of Zelda at his family ritual of Wii Waffle Sundays, visited Ojai on weekends, and enjoyed long hikes, the beach and video game arcades with his family.
In 2009, at age 3, he moved with his family to Hillsborough where Lakas was a spark in the South School community. He enjoyed diving, gymnastics, basketball, handball, baseball, biking, tennis, fencing, swimming, skiing, and soccer. He loved going to Giants, A's and Warriors games. His love for cooking inspired his big school project, this year's Meal of Thanks. Not afraid to tackle the impossible, he prepared the meal for 25 family members and served a menu of shrimp chowder, arugula salad with Asian pears, brisket with vinegar slaw, Brussel sprouts, cauliflower, miso sea bass, and the highlight-veal schnitzel. His palate was wide—craving Japanese food like wakame salad, tekka maki, salmon teriyaki, and very spicy ramen and sushi. He liked truffle salt on pasta. With his family, he loved traveling on vacations to Australia, China, England, France, Hawaii, Japan, and the Philippines.
Lakas had passion for water and was always first to get wet at the beach. He loved the California Academy of Sciences, Marine Science Institute, Curiodyssey, Lawrence Hall of Science, and Exploratorium. He savored the behind-the-scenes tours at the Monterey Bay Aquarium where he relished information on the various ways sea life were supported and sustained. He never tired of this annual trip that always finished with a hike alongside and eventually in the water. Lakas enjoyed playing the drums and piano, and attending the symphony and ballet. He especially loved playing games with his family and cousins – video, board, and card games. With family, he eagerly attended KublaCon. This year, he read profusely and wrote several long essays including ones on Legoland and cooking.
Every year for his birthday, the family journeyed to Berkeley and Oakland's College Avenue on the actual day so as to visit Ici Ice Cream, buy an Ultraman and monster at Boss Robot Hobby, get a birthday hat at Goorin Bros., and finally, eat pizza at Zachary's with his entire clan. His parties for friends and family featured food trucks, ice cream stations, and plenty of activities like horseback riding, laser tag, trampolines, jumpers, slides, and booger wars. Annual celebrations hosted at his home included Japanese Boys' Day on May 5. The Shimizu brothers' 2013 holiday party raised funds to aid victims of Typhoon Yolanda/ Haiyan.
Generous to the fullest, he said at the young age of six, "My dream is for everyone to be treated the same." He loved participating in Community Service and wanted to contribute to his community through cooking. He enjoyed participating in toy and food drives. Lakas shared generously and unabashedly his love for fun. Others were inspired to join him simply because he made it all look so easy and great. He possessed a big life.
His loving and devoted parents Dan and Celine and his favorite person, big brother Bayan, survive Lakas. On the paternal side, his adoring grandfather Robert Shimizu of Lafayette, and his aunts and uncles Jenny and Gerald of Hillsborough, Susie and Philip of Moraga, and his cousins Ronin, Nolan, Matthew and Daniel long for him. On his maternal side, he is missed by his Lolo Rhante and Lola Cecilia, his Titas and Titos Rolf and Sharon of New Jersey, Rhacel and Ben of Los Angeles, Rhanee and Claudio of San Francisco, Cerissa and Ian of Florida, Juno and Noah of Pennsylvania, Margarita of Las Vegas, and Cecille of Los Angeles as well as cousins Ciara, Lauren, Javier, Diego, Pablo and Mica.
Lakas is preceded in death by his grandmother Judy Shimizu, who celebrated her beloved grandson's ability to give the best hugs.